Get your suppliers up to speed without slowing you down.
Our Supplier Remediation helps you to develop suppliers to sustain your minimum level of acceptable requirements or regulatory standards. This is achieved through an initial assessment of selected suppliers, benchmarked to your custom needs or best practice standards, and subsequently remediating the observations and non-conformances discovered with close technical support.
Elevate Your Supply Base. Fast Track Your CAPA Process.
Our global team of quality professionals works hand-in-hand in a close partnership with you and your suppliers to establish and work towards manageable, achievable goals. Our team helps your suppliers implement systems that will improve and/or remediate systemic gaps in their Quality and Manufacturing Systems. Our tried-and-true process has helped clients across multiple industries achieve a stronger and more reliable supply base, and in the process it has helped their suppliers mature their own quality and manufacturing systems to become more sustainable partners.
Here's how we work together: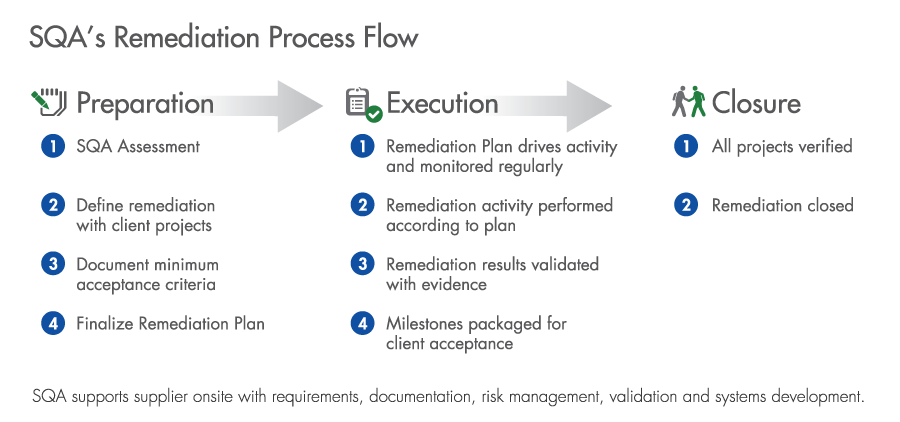 SQA's Supplier Remediation Infrastructure
Global network of SQA Quality Engineers
Standard process to fast track closure of remediation findings
Standard process for developing suppliers into higher levels of compliance
Ready-to-use library with skeleton compliance system elements, e.g. Procedures, Work Instructions, Training
Full program team support, e.g. Management, Administration, Technical Review, Technical Translation
Automated Metrics to track, escalate (when required), and document progress