SQA Powered by STEPQ

STEPQ (Supplier Tracking of Events for Performance and Quality) is SQA's "engine room," providing visibility and control of supplier quality performance across all stakeholders at all levels. It achieves this through its flexible event management control that automates, manages, and reports on activities like audits, CAPA, inspections, engineering, quality agreements, and more. In short, STEPQ helps you achieve your supplier quality goals with three simple principles: Collaborate. Communicate. Deliver.
STEPQ's secure, cloud-based solution controls all of SQA's supplier quality events. STEPQ also manages, in real-time, the supplier interaction, approval, and escalation processes. Notable features include:
Real-Time Information
Dynamic Alerting System
Central, Globally Accessible Data
Secure Collaborative Environment
Flexible Performance Metrics
Our clients find it vital to have timely, detailed, secure information that allows them to make strategic business decisions faster and spot red flags rapidly. Seeing information (such as detailed audit reports, inspection data, or digital product images) across all divisions in your company is essential for optimizing the management of your suppliers' quality. It eliminates duplication and lets you distribute information quickly.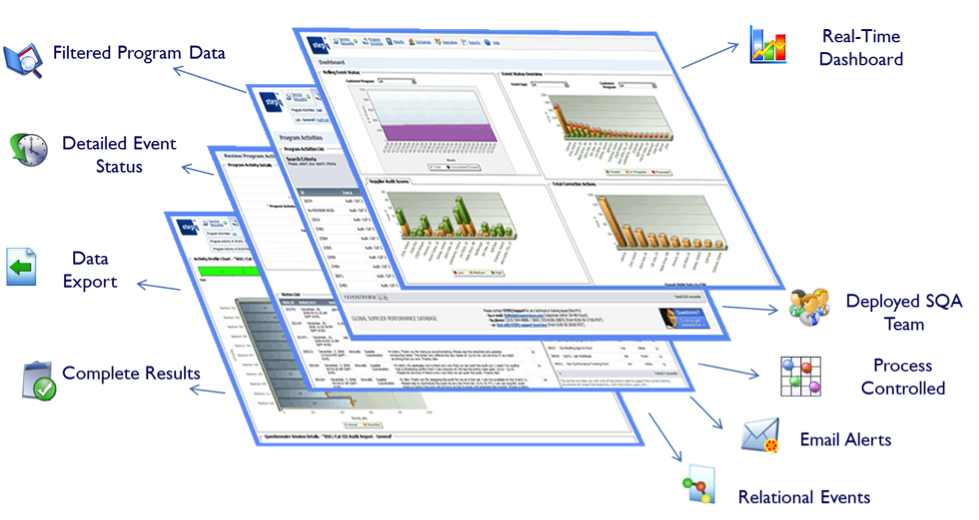 STEPQ is used in regulated, quality-critical industries, and is 21 CFR Part 11 compliant. STEPQ infrastructure is designed and managed in alignment with best security practices and a variety of IT security standards, including FedRAMP, PCI DSS, ISO 27001, ITAR, and FIPS 140‐2. Clients, Suppliers, and Associates all contribute to thousands of quality "events" managed each year. STEPQ provides traceability through automated triggers, escalation, and communication directly with suppliers. The system is highly secured (encrypted transmission, identity verification, malware scanning, vulnerability assessment, etc.) and uses e-forms and custom workflow to reduce manual activity and enhance data analysis. STEPQ also allows customized reporting (e.g., real-time SDE statistics) and data export (e.g., SAP).