Our Source Inspection services are essential in helping you manage fluctuating activity across your supply chain.
For our aerospace, defense, and medical device clients, source inspections are essential to maintaining regulatory compliance, avoiding counterfeit parts, and running a leaner, more profitable business. With our management process, expertise and coverage, and your inspection parameters and direction, you can extend your quality organization anywhere in the world within 24 hours. This allows you to slash your travel budget, keep your experts at home, and be represented by local individuals who are both a technical and a cultural fit.
Reach Further. See More. Spend Less.
Through SQA you can accomplish all your First Article, In-Process, Final, or Containment inspections without having to worry about expanding or contracting your workforce. We can both reduce your costs and achieve better results.
Here's how we work together: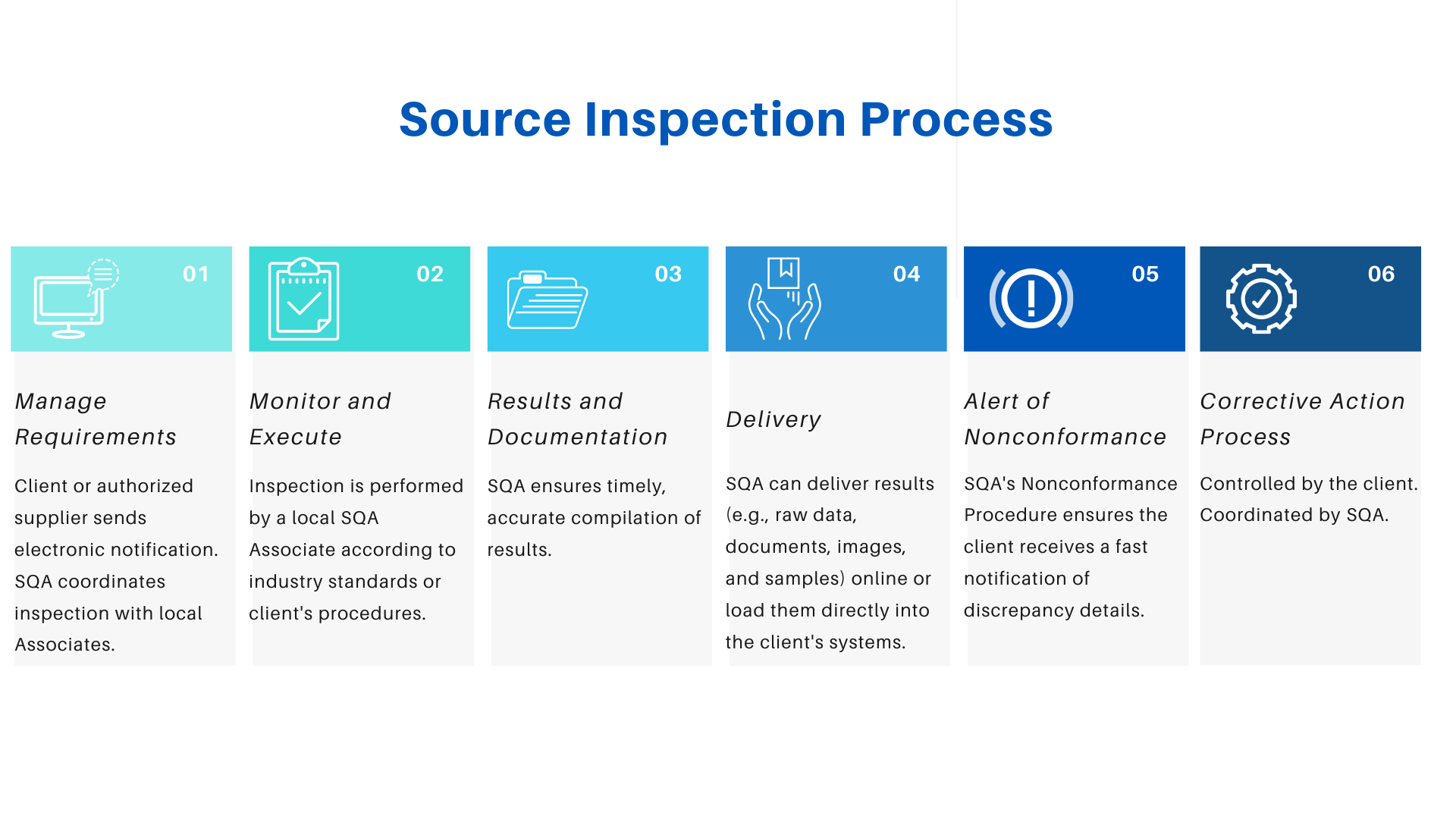 Key Benefits
A fully outsourced, turn-key service that handles everything from Inspector orientation, to requirements handling, to execution, to delivery
A single point of contact, backed by a dedicated Program Management Team
A scalable, rapid response to requirements – with fast results
SQA Associates are issued customized 'Technical Data Packages' that reflect your needs and cover the process from beginning to end
SQA's comprehensive inspection procedures, forms, and work instructions are available to supplement your process if required
Results are available online using SQA's STEPQ database.
Getting Started
Some of SQA's most successful Managed Inspection Programs have begun with a single, typically challenging, inspection requirement. Feel free to talk to a Program Manager or Engineering Specialist about your needs, without obligation. All we need to get started on your program is your:
Procedures, SOPs, Training material, Checklists, etc., in electronic format or otherwise (or SQA can provide these)
Suppliers to be inspected, including product details, locations and time frames
A purchase order or signed contract
… and SQA's service team will complete all your inspection requirements to your satisfaction.