We Have 28 Years Leading Global Quality Solutions
SQA (Supplier Quality Associates) was founded in 1995 by the father and son team of Jim McKay and J. Michael McKay. Under their leadership, SQA has pursued a vision of helping other companies improve. Chaired by Jim McKay, who pioneered Supplier Quality Management services in the 1970s, SQA is widely recognized as a flexible global resource and a proven solution provider for today's complex supply environments.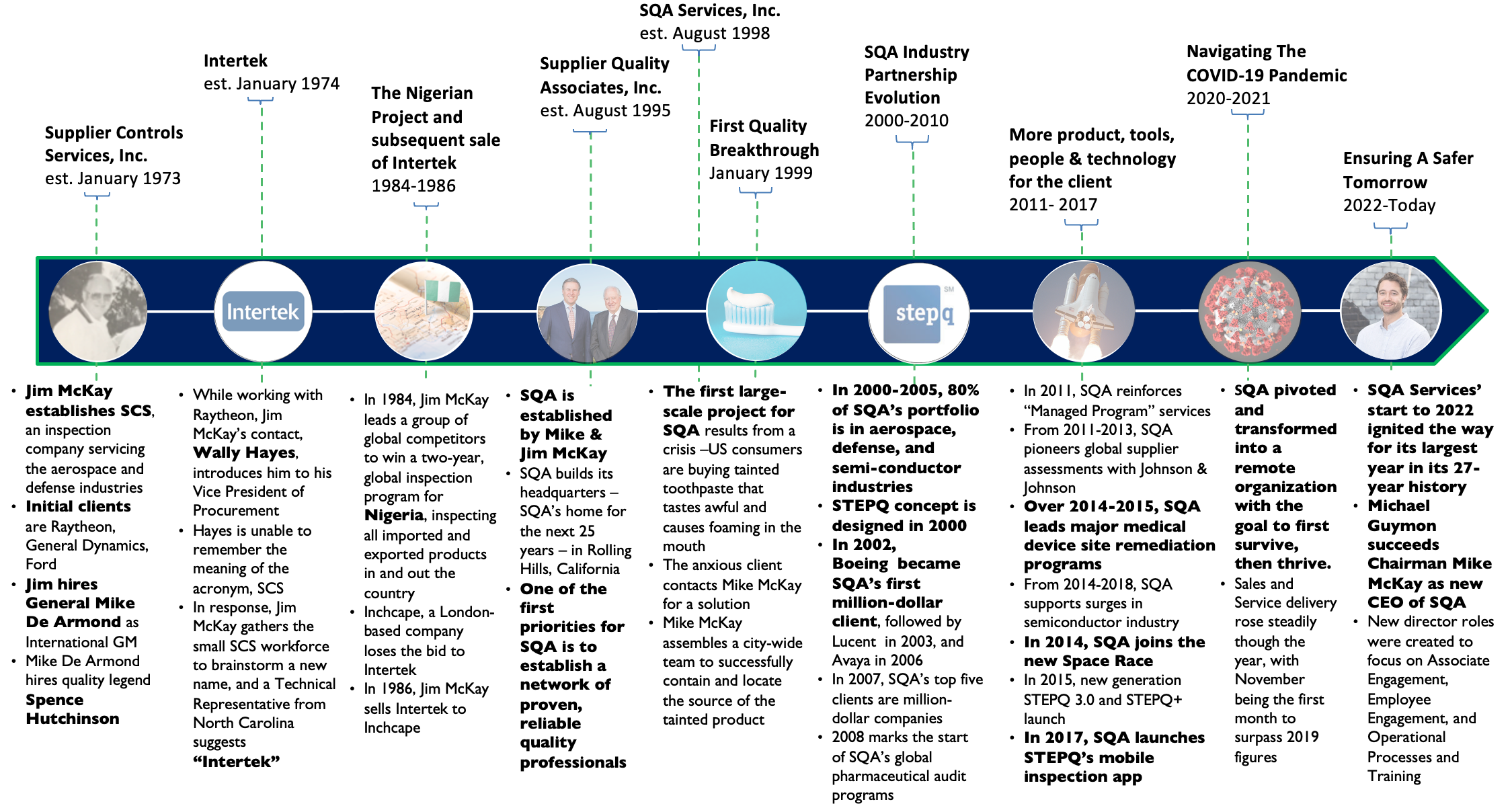 Managed centrally, deployed globally
We are a leader in the provision of managed supplier quality services for audits, assessments, remote surveillance assessments, corrective actions, remediation, inspections, and engineering to manufacturers within all industries. We deliver services by deploying associates who are located throughout the United States and in 90+ countries around the world to your supplier sites. Our associates are expert quality assurance professionals with broad experience and local knowledge who are able to represent your team on-site faster, eliminate your travel budget, and work only when you need them to.
Your global eyes and ears
By partnering with SQA, your company can project its presence into your critical supply partners, wherever they may be. With an approach that is both innovative and evolving, we incorporate best practices from quality and manufacturing in a flexible, integrated, open system. This approach offers you increased visibility and control over your supply base.
Best practices applied
SQA's foundational concepts of quality manufacturing are integral to our process. Process control, lean manufacturing, process capability, performance monitoring, and risk management, along with proven system management tools, are embedded in the methods we've developed. Our flexibility ensures your business processes are accommodated, because the entire process is scalable to meet your current and future needs.
Technology for 'Supplier Intelligence'
Through our secure website, you can keep apprised of the current status of quality and risk within your supply chain. Supplier information and performance data are collected, collated, analyzed, and reported through our process. This data is provided to you in summary format, so that you have current, valid information about your supply partners. At SQA, we aim to maximize the value-added time you invest in your supply partners and minimize the cost of supplier management.
Mission and Values
SQA facilitates the realization of supplier quality goals. This is accomplished by implementing programs designed to provide a unique blend of talented subject matter experts, innovative technology solutions, superior service, and unmistakable value.
SQA's Quality Policy supports the Vision, Mission, and Operational Strategies of the organization by facilitating a continuous, calculated effort to control and improve our services and company processes.
Quality improvements at SQA are primarily client-driven. We constantly listen to our clients with a view of exceeding their expectations and looking for ways which we can improve. We facilitate this through business processes that maximize communication and a formal program for measuring client satisfaction.
Quality is assured through a corporate-wide commitment to the initiative. We empower all of our people to make decisions that will result in delighting and adding value for our clients.
Quality is measured at SQA by tracking our performance on an individual, project and organizational basis, to facilitate continuous improvement and serve our quest for perfection.