Complete Program Management Solution
SQA's global network of quality experts represents the tip of the iceberg in terms of SQA's capability, reliability, and accountability. Behind every carefully selected SQA Associate, there is a technical and administrative support team, a series of proven tools and processes, and a world-leading event management system providing unparalleled visibility and control.
This unique combination of powerful elements makes up SQA's Program Management approach, headed up by a dedicated Program Manager. SQA provides services through a dedicated client program team, using proven methods for the type of program at hand and coordinating all activity and results through our core operations system, STEPQ. Each program team is comprised of specific and integrated functional roles that are process-driven, based on predefined workflows and very clear criteria for success.
As well as supporting and coordinating the movements of SQA Associates on the ground, each SQA Program Team manages all of the tactical activities of a program (e.g. scheduling suppliers, associate selection, coordinating travel, report review, CAPA follow up) to allow you more time to focus on strategic quality projects.
SQA's Program Management Solution ensures that not only the goals of each program are met, but that they are met in an efficient and value-added manner.
Working Together
SQA has created a simple 7-step process that will help you manage your whole supplier quality project. By implementing these steps, we can act as a seamless extension of your organization. We collaborate with you to ensure that we deliver results and exceed your expectations, measuring ROI and key performance metrics.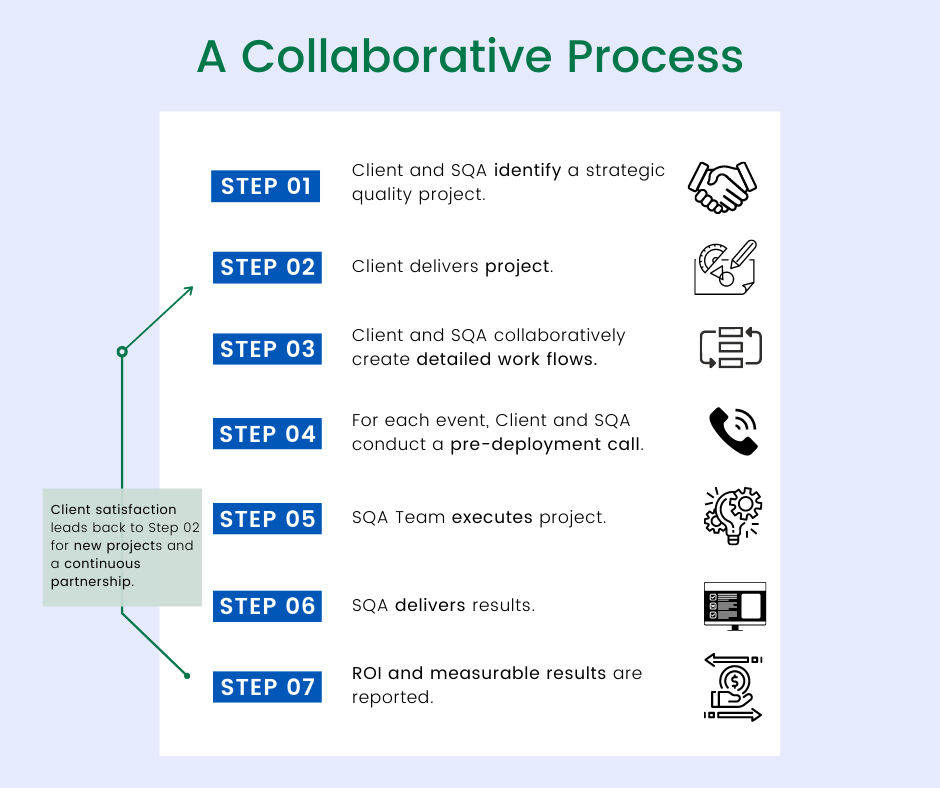 Meet the Team