SQA News | Spring 2021
Wins & Challenges


Spring greetings!
First I want to convey my best wishes to all the Mothers out there for the recent Mother's Day!  We had a great time celebrating with my Mom and Carrie with the rest of the family.  Being able to do this was largely made possible by the different vaccines being distributed throughout the country.  The providers being SQA clients like Moderna, Pfizer and J&J makes me hold my head high in pride that we're involved in this process. I wanted to take a minute and share with everyone something I did this past week while traveling to Colorado for my daughter's college graduation.
I wanted to take special note of every single SQA client that I came across while taking the journey and share with you just some of the results.  It's frankly mind-blowing how many SQA clients you come across as you go through your day-to-day activities. 
Before I get into details, when I first started SQA at 26 years old my Dad asked me what I wanted as a goal for the company back in 1995.  I answered immediately that I wanted to start a small Palos Verdes company that would improve the way the world manufactures things.  It's funny because this little exercise made me realize that the goal we wrote down has clearly been achieved as I focused hard over the four day period on just how many companies we impact by being in business. 
First, we flew to Colorado on a Southwest Airlines Boeing 737.  Did our team view the wing assembly on this very aircraft?  Who knows, but they're a client that we're very proud of and with new additions to our team they're going to be a strategic partner that really needs us to step up.  On the airplane, after getting Wifi I Googled the address of the hotel where we were staying.  Google, another growing SQA client.  After taking the tram to the rental car facility I chose a Chrysler car to drive to Boulder.  This reminded me of the DaimlerChrysler project we were involved in years ago where we provided data to their executives about a specific truck launch on their behalf. 
Upon arriving at our hotel, altitude was getting to me a bit so I needed something for a small headache, I searched my medicine bag and grabbed the product of yet another SQA client, some Bayer aspirin which helped me ease into the evening.  At dinner after meeting other parents, out come the cell phones snapping up pictures of the graduates.  Apple iPhones are everywhere!  Again, an SQA client. 
Back to the hotel and before bed, I brush my teeth with a Philips electric toothbrush using GlaxoSmithKline Sensodyne toothpaste and finish up with a swig of Listerine made by Johnson and Johnson.  Dry skin on my hands is annoying me so out comes the Neutrogena hand cream and too many tacos over the dinner means taking two Tums made by GSK yet again.  I then opened a bottled water clumsily and cut my index finger.  No problem – out comes a Band aid made by J&J. 
Before bed I hear Carrie tell Steph to take a Motrin for her headache (likely caused by an excess of margaritas) made by McNeil Consumer Health – an awesome partner over the years. We had a big day the next day with Steph's faux graduation ceremonies and weather was thankfully 80 degrees in Boulder.  So I used my Mennen speed-stick deodorant made by Colgate Palmolive – one of our first clients.  I also doused on Banana Boat sunscreen made by our other client Energizer.  In my pocket I always carry some chap stick made by Pfizer and some tears for my eye allergies.  Allergan helps me there and I pop a Zyrtec from J&J to help deal with the Spring season of flowers growing everywhere.  What's left of my gray hair then needs to be somewhat in place due to the winds so I use L'Oreal "strong" hair gel to try my best to look the part. After flying home I hear that Elon Musk from SpaceX is hosting Saturday Night Live, so I tune in for the laughs.  The news portion of SNL mentions Jeff Bezos and Blue Origin.
'Bottom line is that wherever you look, you see SQA clients.  I take immense pride in the fact that our team has worked so hard to call these amazing companies clients.  Our sales team worked tirelessly in bringing them in, and it wasn't easy.  First, our FED and Technical experts are involved scoping the different opportunities and making sure we have a plan to execute to our clients' satisfaction.  Then our ADM team had to find people that will delight these clients whilst our operations team schedules audits and inspections and others activities that these companies need.  Program Managers and our Content team then manage the daily events and make sure the client is happy, and finally Accounting does their part by billing them accurately and making sure our team around the word is paid in a timely fashion.  Our IT team supports leading-edge technologies that show real time metrics proving our return on investment and voila, there you have it.  Our entire SQA team delivers yet again!
I'm proud to work with everyone on the SQA team and want to thank you for your incredible efforts during all the crazy times over the past year.  Hold your heads high and realize that all these companies I mentioned (and way more) depend on our firm to get things done.  Take a minute and look around at how many SQA clients impact your daily life. It feels pretty cool.
Let's get into our Wins and Challenges and get you all caught up with what's happening! First, the Wins…
Wins
The "A" Team
SQA is thankful to have world-class industry executives on our advisory team.  In past newsletters you met Martin VanTrieste and Jeff Luckey.  Martin, CEO/President of Civica Rx, is supporting SQA's growth in Life Sciences, while Jeff, former Boeing Executive, has been shaping the SQA Aerospace/Defense industry services.  Not surprisingly, Jeff has a lot of accomplished friends – two of whom we are extremely excited to introduce as SQA's latest advisors focusing on new and existing Aerospace/Defense clients.  We are delighted to introduce Kathy Moodie and Mike Song to #TeamSQA!  With Kathy, Mike, and Jeff, SQA can surround any supply chain with excellence and experience covering 100 years of industry experience.  Kathy and Mike both come to SQA with over 30 years of success at Boeing, with more than half of those years in Executive roles.  
Kathy Moodie is a high-energy, results-driven leader, with extensive experience in aviation and manufacturing. She has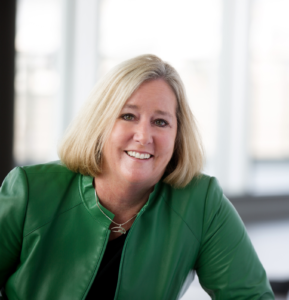 a track record of strong leadership, excellent communication, and the ability to work well under pressure and excel on high-performance, cross-functional assignments. Kathy has been successful in creating, developing, and enhancing production systems to create an environment of safety, quality, and performance.  She is action-oriented and builds rapport well with customers, suppliers, stakeholders, peers, partners, and direct reports.  Kathy's most recent experience as Vice President for Boeing was leading the Everett Delivery Center's pre-flight, paint, and delivery operations for all twin-aisle airplane programs (787, 747, 767, Tanker, and 777).  Oh yeah – she is also an awesome water skier!
Mike Song has led large scale global production systems and diverse functional organizations within Boeing. Mike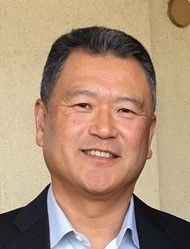 began his career with Boeing in 1984 as an Engineer specializing in advanced composite materials. He held numerous leadership positions, including international assignments in Asia and Canada. Being the Director of Supplier Quality at Boeing, Mike managed a globally distributed workforce across the Boeing supply chain.  Mike was also involved in numerous industry and community organizations, serving in the following roles: Board Chair of Washington State Quality Award, Vice-Chair of Standards for Americas Aerospace Quality Group, Member of Nadcap Executive Strategic Planning Board, and Executive Mentor to University of Washington Business School.
Rest assured that if our clients expect world-class results supporting their supply chain, we are confident that SQA is ready to bring in the "A" Team!
Challenges
We love to take challenges and turn them into opportunities and sustained results.  Even with more of the world receiving their Covid-19 vaccinations, there are some countries lagging behind or dealing with a different strain.  These continued hurdles are met with passion to succeed from SQA clients producing more vaccines to increase supply, and other options to fight Covid-19.  SQA has increased efforts to support these clients and their supply chains through more technical resources covering more locations, and being able to secure important dates with these crucial suppliers.  The SQA data shows that during the pandemic we are touching audit events four times more often than average to execute for our clients on-site (where safe) or remotely.  During the past 12 months, remote events have increased to 50% of auditing activities.  As confidence continues to build we will see on-site visits open up, but the learnings and tools created to support while having to be remote have been paramount.  To learn more, please feel free to reach out to SQA directly.  
Questions
We love some of the answers we've received in the past to some key questions; they've really helped shape our strategy. Please feel free to send answers/comments to these questions to me directly at mmckay@sqaservices.com.
What would you like to hear from the SQA future Newsletters that we are not currently talking about?
A lot has changed over the past year within many industries and we're excited to learn more about where you see the next big wave of innovation and from what industry?
What can SQA do better? What are your true feelings about how we've done collectively over our 25-year history?
Thanks in advance for your thoughts!
—-
Thanks again for all of your support, most especially given our most challenging year to date.  Every Client, Associate, and Employee means everything to us and we're so fortunate to Survive and Thrive because of you.
Yours in Quality,
Mike McKay



President/CEO
---
Out & About with Team SQA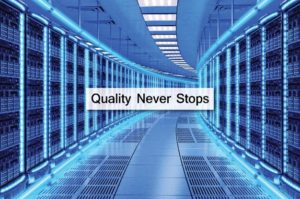 For eight consecutive weeks, SQA and its strategic partners participated in a quarterly business review.  These sessions are extremely valuable to the success of the program, and the client partners that we are fortunate to work with.  The focus of the meetings is on the metrics of the services to identify successes and learnings to improve their global supply chain.  Patient and consumer safety are extremely important to all of us and we are proud to be part of many long term relationships where our clients make a change in the world every day! #globalimpact #vaccine #logisticssolutions #partnerships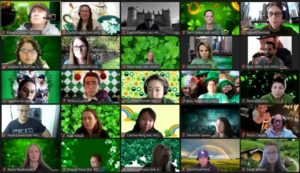 Working from home did not dampen our SQA global spirit.  SQA'rs dressed in emerald and green on March 17th means fun times at SQA.  We had a weeklong St. Patty's spirit week with our background challenge, weekly trivia, happy hour, and gift drawings! #teamSQA www.SQAservices.com. 

SQA attended, and sponsored as an exhibitor at the Personal Care Product Council Virtual Summit May 11th to the 13th.  The speakers were extremely informative and so much to learn from the industry leaders.  Mr. William Lauder of Estee' Lauder, discussed that that "quality culture builds over time", and "we are in a sensory business". In the near "future will see more engineering, leading to more innovations, better solutions for the consumer". https://www.personalcarecouncil.org/events/2021-virtual-summit/ 

SQA had a fun time building our virtual booth to support the PDA Annual meeting in March.  The 3 day meeting highlighted what's in store for the future of pharmaceutical manufacturing. We examined companies  that are developing new modalities and adapting to the current manufacturing environment through the modernization of aging facilities and the adoption of innovative approaches and processes.  www.pda.org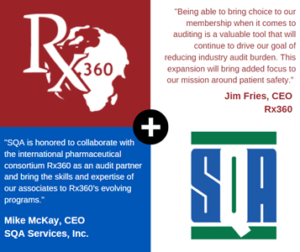 SQA was proud to support the past two days of the Rx-360 Euro 2021 Summit. SQA has been partnering with Rx-360 in support of its members and sponsors to service the impact of local regulations in the life sciences and medical device industries, with the goal of achieving consistent supply chain standards worldwide.  rx-360.org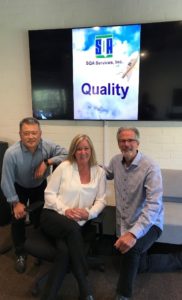 The SQA "A" team with over 100+ years of Aerospace/Defense experience participated in meetings at the new SQA HQ.  From left to right: Mike Song, Kathy Moodie, and Jeff Luckey.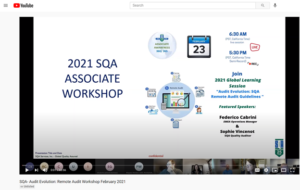 SQA has a YouTube channel.  In January we launched our SQA Global Learning Sessions.  SQA Associates, Advisors and HQ teammates present monthly during the Associate Awareness Program held the last Tuesday of every month.  We are only as good as the experts in field.  SQA learns and wins together.  Our learning session themes are highlighted below in the "Upcoming Events" section below. #SQAalreadythere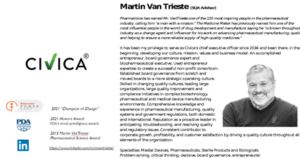 A huge thank you to Martin Van Trieste for participating in our SQA Global Learning Session in April.  The presentation from Martin on "Counterfeiting: A Globalized Supply Chain Risk" was eye opening, serious and a message the world should know about. #learningwithSQA
---
Upcoming Events
ASQ, Virtual World Conference on Quality & Improvement, May 24-28,  World Conference on Quality & Improvement
Personal Care Product Council Virtual Event June 2nd, U.S. Cosmetics and Personal Care Brands in China: Launching in the World's Largest Market, www.personalcarecouncil.org
Parenteral Drug Association Annual Meeting, virtual June 15th-18th PDA Packaging Learning Week     www.pda.org
International Society for Pharmaceutical Engineering, ISPE Expert Xchange: Enabling Pharma 4.0™ through Plug & Produce, June 10th, virtual event, www.ispe.org
International Aeronautics Quality Group July 16th, Annual RMC Auditor Workshop, hosted virtually this year , www.iaqg.org
SoCal PDA Chapter Facility Virtual Tour or Program, July 14-15, of Azure Cleaning Rooms and/or Amgen Continuous Manufacturing
SQA Associate Awareness sessions are evolving for 2021!
Learning Sessions for 2021: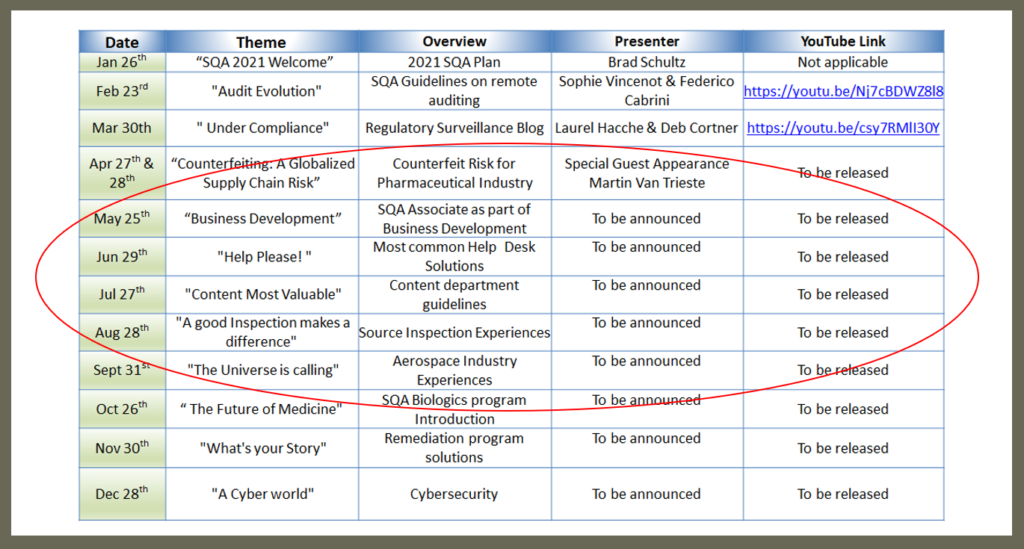 Quality PERSONified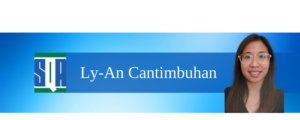 Ly-An , SQA Junior Staff Accountant

I joined SQA as a part-time associate in 2017 and became a full-time employee in 2020. I work as a Junior Accounting Assistant in SQA's Finance Department. As part of the Finance Team, I aid with payroll preparation and participate in Accounts Payable, where I process vendor bills and correspond with vendors regarding account status and payment. My current focus is streamlining our onboarding process so that SQA new hires can meet clients' expectations without delay. I am thankful to be a part of SQA and the Finance Team, and to have the experience of working alongside goal-oriented individuals and team players who focus on meeting each client's highest standards.
After being a competitive swimmer for 12 years, I branched out to become a coach at a year-round competitive swim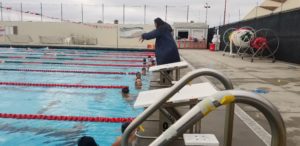 team and the local high school team, where I oversee workouts and provide swimmers with the tools that they need to develop winning skills. Swimming taught me about setting goals and being part of a team. I learned to accept challenges and how to better myself by being there mentally and physically at practice, and I wish to impart these lessons to the swimmers I coach. It is gratifying to see young swimmers reach their goals and learn life-long lessons they can use both inside and outside the pool.
In my free time, I like to travel across the country and around the globe with my family and friends. Not only do I have a great support system at SQA, but I also have loving and supportive family at home.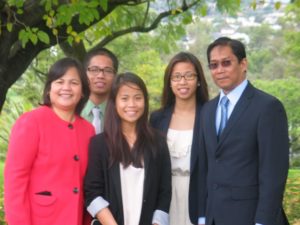 ---
Associate Spotlight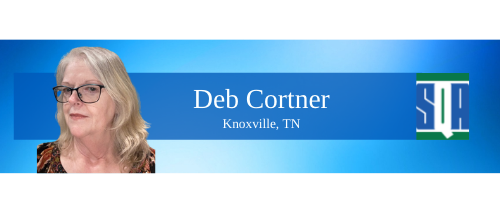 Meet SQA Associate Deb Cortner

Deb grew up in a small town in the mountains of East Tennessee. After graduating with a degree in Microbiology from the University of Tennessee, Knoxville, she embarked on a career in FDA/DEA regulated industries. Her first position was as an environmental monitoring technician with IV manufacturer Cutter Laboratories in Chattanooga, TN, and she eventually advanced to Lab Supervisor before the facility closed. During their time in Chattanooga, Deb and her late husband Terry began their family, which grew to include three beautiful daughters.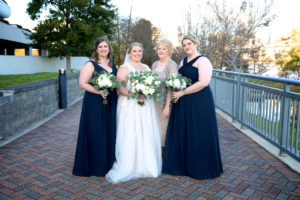 Deb had started taking Medical Laboratory technical classes when the opportunity came to return to industry, and she never looked back. After stints with Dr. Scholl's, McKee Foods, and DeRoyal Industries, she and her family moved to Jacksonville, FL, where she worked at Xomed, a medical device manufacturer. It was there that her interest in auditing developed. Deb became an ASQ Certified Quality Auditor (CQA) in 1996. One of her favorite activities as a CQA has been occasionally assisting with writing and reviewing items (i.e., questions) for the CQA exam.
Deb has also spent time in Indiana with Schwarz Pharma, Atlanta with Solvay Pharmaceuticals, and Tampa, FL with Bausch Health in a variety of quality supervisory and management positions. In 2016, she relocated back to Knoxville, TN. After two years with PetNet Solutions, a radiopharmaceutical company, she decided it was time for a career change. She reached out to SQA Services and began a second career as a contract auditor. Deb has conducted almost 190 audits of manufacturers, packagers, distributors, laboratories, and related facilities to date. She is really enjoying the variety of audits she conducts. She continually learns about new processes and new ways to implement a quality system.
One of Deb's greatest loves is traveling. She has been to at least 42 US states and eight countries. Her goal is to visit the other eight states soon and maybe a few more countries. In her spare time, she loves reading, mostly mystery or suspense and historical fiction. Before the COVID-19 pandemic, Deb attended live musical concerts and plays with friends and family, and she can't wait to resume those activities when it is safe. She is also eagerly awaiting the arrival of her first two grandbabies later this year.
---
Hey Associates!
Don't forget to send us your Already Here photos!
Tag us on social media with #SQAAlreadyHere,
or email your photos to media@sqaservices.com.
---
How can we help you?
SQA facilitates the realization of supplier quality goals. This is accomplished by implementing programs designed to provide a unique blend of talented subject matter experts, innovative technology solutions, superior service, and unmistakable value.
Join us online for a one-to-one webinar
and discover how we can benefit your organization.
Email improve@sqaservices.com to learn more!
---