SQA News | Winter 2017
Wins & Challenges

This new year is such an exciting time for SQA! We have new clients around the globe, new employees, and growth opportunities that represent huge wins and also present commensurate challenges. More significant events have occurred around the world in the last quarter than over any three-month period in our 22-year corporate history. Some people see these changes as catastrophic, while others are upbeat and optimistic. Either way, change is inevitable and it's up to us as individuals to figure out how to react in a practical, productive, and professional way.
So what specific positive changes have occurred at SQA Services?
WINS
The SQA Tech Center 25

I'm proud to announce that we've opened a new facility in Hawthorne, California. It's a place of learning and education, where our technical team members can align with key clients and have thought-provoking discussions about improving quality and an array of other initiatives.
Throughout our history, I've been concerned that we rely too much on training tools and equipment at client and supplier locations instead of creating our own learning center. In creating SQA Tech Center 25, I envisioned a place where we could have a more hands-on approach to building longer lasting partnerships with both our clients and Associates. "TC25" is equipped with a granite table for inspection exercises, a height gauge, a profilometer, calipers, micrometers, an optical comparator, and other parts with blemishes that our inspectors must catch.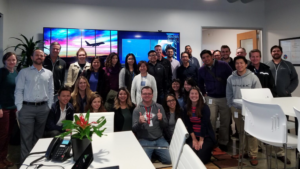 The runway adjacent to our new space is Runway 25 from the Hawthorne Municipal Airport, so we added an aviation theme to our décor, and the result has been fantastic. Clients can now visit us in an atmosphere reminiscent of an airline lounge and have a great cup of coffee as they charge their phones and engage in strategic conversations while watching our team's performance metrics stream across two 70-inch monitors. When clients get to see our Associates using the tools and equipment required by various programs, collaboration and teamwork are enhanced exponentially. Our offices in Rolling Hills are a little off the beaten path, and now it's much easier for anyone swinging through LAX to stop by and interact with us. Please come and see us the next time you're in the area! For directions, click here.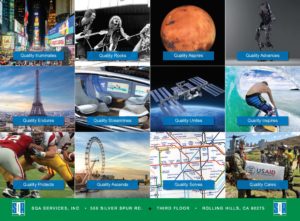 The 2017 SQA Quality Calendar
Our team worked tirelessly on a beautiful calendar with 12 fantastic quality themes. Clients and Associates contributed to the messages contained in the calendar, and even though the topic of quality assurance can be perceived as a boring subject, we stand proudly behind how incredibly interesting the products and services that we touch around the world every day can be.
Please reach out if you need additional copies and we'll be happy to send more your way! You can also download the digital version from the resources page on our website.
Getting Out of the Office with Key Clients and Associates
I made a pledge in my personal 2017 plan to have fewer meetings within crowded conference rooms and our SQA Headquarters Building. True client and Associate partnering starts when we're out and about and doing something interesting together. When traveling, I make it a point to reach out to business contacts to get away from the office, the conference room, or wherever else, for a jog, a round of golf, a meal, or something conducive to more meaningful communications. These encounters are growing in creativity. This year, a client and I are even contemplating climbing Mount Kilimanjaro – now that's adventure!
I'm also making an effort to limit business conversations and to instead focus on what motivates our clients and Associates from a personal perspective. This may sound different, but it has really helped our company understand how key partners spend their time away from working with us and helps us foster stronger relationships.
Recently, I played golf with a new key client in North Carolina in 30°F weather. He spent the first six holes telling me that he's a novelist, and we discussed his books at length. It was a more refreshing conversation than one in which I constantly bother him with comments on how his company can leverage our services more and more. The client switched gears later and we had plenty of business discussions, but only after we got to know each other better. His candor was refreshing, and I learned much more about how we can improve than I would have if I had 30 minutes of his time in an office where his phone kept ringing.
Some other goals I included in my plan were to focus this year on laughing more, worrying less, and hanging out with those who can teach me. My time spent with this individual was a perfect example of this, and I hope to make it happen more and more.
Challenges
Today's Political Atmosphere
I believe in the old saying that you should try to refrain from conversations about religion and politics because they rarely end productively. I struggled even writing this to you all, but the fact is that I'm challenged with the situation in front of us these days, so I need to level with everyone on how the recent election is proving to be an extreme challenge for our company. I'm not taking sides here writing this (many might be surprised at my personal beliefs on various subjects), but I have never seen our country and even our own employees at such odds, and I'm concerned about how to deal with unifying our company.
I've seen and heard people from both sides spew heinous comments and negative rhetoric incessantly on social media and face-to-face. Instead of seeing pictures online of their lovely families, I see everything ranging from passive aggressive comments to absurd manifestos complete with enough profanity to make a sailor blush. Comments get increasingly personal, and then other online spectators chime in and things get nastier and nastier. Another part of my personal 2017 goals was to immediately unfollow this kind of negativity from both sides, but I don't like missing neat moments from each person and feel guilty doing so. So many people are lucky to have healthy loved ones around them, and yet they choose this path?
Both political parties are good in certain ways for SQA, and that's how I view things and try to lead us in an optimistic fashion, by creating an environment where people look forward to the future with positivity. Regardless of the political climate, I will continue to try my best to lead our company in the best interests of all you readers in the SQA PARTY.
As always, please feel free to send me any ideas you have on how we can be a better company. I read them all, and our team has implemented many of your ideas as a result. My email is mmckay@sqaservices.com and I hope to hear from you soon!
Yours in Quality,
Mike McKay

President/CEO
---
Hey Associates!
Don't forget to send us your Already Here photos!
Tag us on social media with #SQAAlreadyHere,
or email your photos to media@sqaservices.com.
---

Dear SQA Associates,
Welcome to a new year of the Associate Medal Program! We are reassessing current standings, so expect an email update from me soon. Please let me know if you would like to talk about how you can get further involved in the program. Each of you is an important member of Team SQA, and I am excited to see more of you leveling up to Silver, Gold, and Platinum!
Best regards,
Tim Lebetsamer
Director of Associate Development
---
Out & About With Team SQA

Did you know that more than 15 million cargo containers move through the Port of Los Angeles every year? We saw longshoremen in action when we braved the wind and rain on January 20th to take a tour of the Port. Thanks for the opportunity, ISM-LA!
---
Upcoming Events
The SQA team will be exhibiting at and attending the following events. We'd love to see you there!
American Manufacturing Summit 2017 (March 28-29, 2017, Westin Lombard Yorktown Center, Chicago, IL, USA)
PDA Annual Meeting (April 3-5, 2017, Anaheim Marriott, Anaheim, CA, USA)
BOSCON 2017 (April 3-4, 2017, Hawthorne Hotel, Salem, MA, USA)
ASQ World Conference on Quality and Improvement (May 1-5, 2017, Charlotte Convention Center, Charlotte, NC, USA)
---
Associate Spotlight

"I was born in New Rochelle, NY and was raised by my mom. We moved to California in 1969. I started in Quality Assurance in 1976 as an Ordinance Test Technician Trainee and have been in quality ever since, working for companies including Ford Aerospace, Space Systems Loral, Lam Research, Boston Scientific, and Solynda.
I have been working for SQA Services for a little over two years now, and it's the best company ever! I just finished my 2,000th event with SQA. I am happily married, and enjoy playing music, tennis, volleyball, and boating at Lake Don Pedro on the weekends."