SQA News | Summer 2023
Wins & Challenges


It's hard to believe how quickly eight months have flown by at SQA. It has been such an amazing experience getting exposure to all our client's challenges and successes. I have enjoyed seeing a broader spectrum of the industries from which I came, Aerospace and Energy, by observing how other companies are solving similar problems. I have also been inspired by learning about the incredible work we do within the Pharmaceutical and Consumer Products industries, which continue to be a massive part of our current and future portfolio. 
Protecting Through Quality
Home Away From Home
In the last newsletter, I committed to sharing more details on the elements of my previous companies that I hope to positively influence our journey at SQA. To make sure this is appropriately conveyed, I'll focus this article on my first home after college, SpaceX in Hawthorne, CA. 
When I arrived in Hawthorne at SpaceX headquarters, the company was gearing up for their 6th flight of Falcon 9, and they had achieved a launch rate of 2-3 per year. Elon's goal, however, was to increase to a rate of 2-3 launches per week. Last year, SpaceX successfully completed 61 launches. This year, their target is 100+, and they are not far off from that pace, averaging 1 launch every 4 days in 2023. While achieving this unprecedented launch cadence, SpaceX has also managed to land 180 boosters, deploy over 4,100 of its own Starlink satellites, launched the first all-civilian crew into low earth orbit, delivered 34 astronauts to the ISS, and developed Starship, the most powerful vehicle ever made. 
Achieving The Impossible
What is the key to SpaceX's success? How have they been able to accomplish multiple goals that many believed to be impossible? Firstly, I give an immense amount of credit to Elon. Despite his unorthodox antics and sometimes questionable decisions, the man is a genius. He sets audacious goals, and he does so in very public venues. He follows up on these commitments with tenacious execution until the task is accomplished, even if it doesn't happen quite as quickly as he thinks it should. The greatest lesson I learned from him is the power of simplifying complex problems down to their most basic elements. His ability to quickly strip away extraneous details and excuses from a problem statement allows him to approach the solution with basic fundamentals. His extensive knowledge of engineering and physics empowers him with a very firm grasp of what is truly impossible. In essence, if the laws of physics allow it, we should be able to achieve it. This is the basis for all his goals, from the maximum payload the rocket should be able to carry to how quickly you should be able to 3D–print an engine component out of Inconel. In other words, if you are going to tell him that something isn't possible, you better come with receipts to back it up. 
No "I" In "Team"
However impressive, one man with these traits is not enough to accomplish the impossible. It requires a team. A large team. A team of incredibly talented, ridiculously hardworking, and slightly insane mavericks. These are people who will forgo meals, sleep, and showers to get the job done when others would complain that a timeline is unreasonable. They challenge every constraint that impedes progress. They party hard when things go well and work even harder when things go wrong. In short, they are bought into the mission. All in. They truly believe they are working towards something so fundamentally important to the world, that it's worth the sacrifices. 
Reaching For The Stars
So, what lessons do I hope to bring to SQA from my six years in one of the craziest work environments imaginable?  
For starters, we will set audacious goals. Over the past 28 years, SQA has grown into an industry leader in the realm of supplier quality. We plan to leverage that expertise to evolve our service offerings in new ways. We want our clients to approach us with seemingly impossible challenges, and we will deliver unprecedented results. Seriously, this is an actual request to you, the reader. Bring us a problem that you don't know how to solve. Let's sit down in a room full of whiteboards and bounce crazy ideas off the walls until we come up with an answer. Remember, if the laws of physics don't prevent it from happening, we should be able to find a way to do it. Without a doubt, these problem-solving sessions are my favorite part of my job. 
Ensuring a Safer Tomorrow
In addition to bringing the nerve to set audacious goals, I also hope to bring the "all in" mentality to our mission at SQA. We love our work because we "protect through quality." The projects we execute and the clients we partner with have such tangible links to our daily lives. Whether we're fastening our seatbelts on a commercial airplane, getting a COVID booster shot, or disinfecting our kitchen at home, we know that our work has contributed to making these products safer and more reliable. In quality-critical industries, minor mistakes can lead to major disasters. We firmly believe that the growth and success of our business allows us to make a greater impact on a larger portion of the globe. Where I can't say that I want our employees to forgo meals, sleep, and especially showers, I can say that I want to build a culture where we are all willing to do so, when necessary, without complaints or hesitation. I want each of our clients to know they can count on us to have their back when times get tough, and we want to party hard with them when things go well. 
Questions And Feedback
As a quick reminder, the creative team at SQA needs your help as the team starts to draft its 2024 SQA Quality Calendar.  Please submit ideas that you'd like to see featured during one of the months of next year. 
It has been an absolute pleasure meeting many of our clients, employees, and associates over the past few months. If we have not had the opportunity to get to know each other, I strongly encourage you to reach out to me at mguymon@sqaservices.com so we can schedule some time to meet. Also, as this is my first venture into newsletter authorship, I would love feedback on the types of information that you all would like to hear about every quarter. Please be open and honest with your thoughts, and I'll see what we can do to ensure this is something you all look forward to receiving several times a year. 
—-
Onward & Upward,
Michael Guymon



President/ CEO
---
Out & About with Team SQA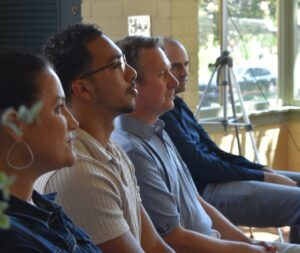 Kicking off with a recap of our quarterly State Of The Union Department meeting, SQA was very happy to report on our continued success! The purpose of SUDs is to showcase how we have been progressing in the individual departments, in comparison with forecasting, as well as to discuss the future of SQA. Our leadership team also took the opportunity to announce the onboarding of new employees, the promotion of corporate employees, and highlighting employee anniversaries. Special shoutout to all of our employee of the month winners: Allegra Wozniak, Alma Brumand, and Satomi Jones. To those who are new, welcome to the SQA family! Thank you all for your continued hard work, you are the ones who make SQA great!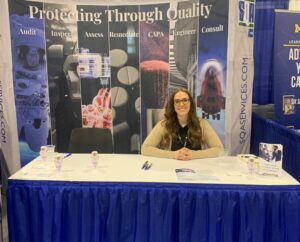 SQA has a whole new look at conferences! In May, we revamped our background display to better illustrate the many different industries that we have served and continue to serve throughout the decades. Also calling to attention the different services that we provide to our clients including audits, inspections, assessments, remediations, CAPA, engineering support, and consultations. Come see us at our next event!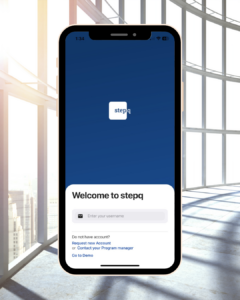 We are also very excited to announce that we have a new and improved Source Inspection tablet application, available for both Apple and Android download. This application serves as a tool to perform all critical actions for clients, suppliers, and associates. The main idea is not to repeat all functionality of the StepQ digital platform but to provide all vital features, make them more effective using the advantages of mobile platforms, and provide timely and detailed information directly on mobile devices to allow clients to make strategic business decisions faster and spot red flags easily. To read more on the current success of our mobile tablet application, visit our press release here: On The Road to Zero Defects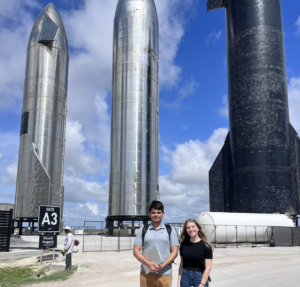 Our team is out and about! In May, Associate Manuel Cortez and Program Manager, Riana Lorenzen, attended SpaceX's bi-annual Source Inspector event on behalf of SQA. here they are at Starbase, SpaceX's launch site for Starship in Boca Chica, TX. Manny and Riana are just two members of our dedicated team that are actively ensuring a safer tomorrow by protecting through quality.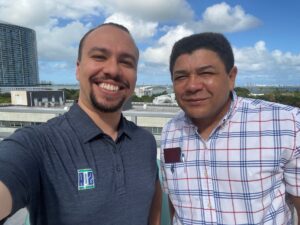 During the first couple weeks of June, our Technical Recruiter, Allan Franca, traveled South to Miami, FL to actively recruit potential candidates and get the word out about SQA Services. Here is what Allan had to say about the experience: "It was a great experience and I am grateful to have received the opportunity from SQA. I was able to visit quite a few schools, businesses, and workforce centers searching for the perfect candidates to add to our constantly growing team of experts." To learn more about current open positions, please visit our "Jobs" page on our website!
---
Upcoming Events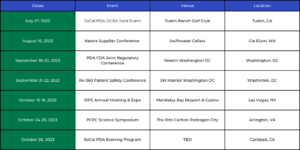 ---
Quality PERSONified

Meet SQA Project Coordinator Barbara Camacho

Barbara is a graduate of the Autonomous University of Baja California, Mexico, has a Bachelor's Degree in Law and more than 15 years of experience in verifications, and sanitary and environmental audits, her experience includes work in agencies such as the Health Ministry of the State of Baja California, Health State Coordinator, Board of Protection against Sanitary Risks, she is fluent in English and Spanish.
It is very gratifying to be able to coincide with SQA and contribute my experience as Program Coordinator in the Pfizer Program and confirm the commitment to help other companies and clients to improve their quality systems, achieving their objectives.
I firmly believe that having good quality systems is the first step for a successful company.
Barbara Loves to travel with her family, her husband, and 2 children. Outdoor activities such as camping, going to the beach, and snorkeling are among her favorites and a good Tennis game is always welcome. Got Tennis? ❤️
Together with her husband, they have a civil association that helps vulnerable people in their community (Amigos en Accion A.C.).
---
Associate Spotlight


Meet SQA Associate Tracey Nguyen

I have been working in aerospace for 15 years, mostly as a Quality Specialist. I went into aerospace because of the new technology and the challenges it has for people working in this field. I find myself being challenged while working in the aerospace field which helps build my character and responsibility. I find that I meet many interesting people whom I can learn from as well as share my knowledge with. I enjoy the responsibility that comes with my job, that my signature, and or stamp says that I thoroughly reviewed the requirements and that the work performed and inspected by me is correct and meets all requirements. I take pride in my work and try to show my daughter how important a person's word is in life. Integrity is very important when working in aerospace or any job or occupation. I have been told that I am a very thorough person. I take that as a compliment for the work that I do – I enjoy what I do and every time I either see a plane flying or I am sitting in the plane itself,  I know that many people like me with integrity and run toward responsibility worked on it. 
---
Hey Associates!
Don't forget to send us your Already Here photos!
Tag us on social media with #SQAAlreadyHere,
or email your photos to media@sqaservices.com.
---
How can we help you?
SQA facilitates the realization of supplier quality goals. This is accomplished by implementing programs designed to provide a unique blend of talented subject matter experts, innovative technology solutions, superior service, and unmistakable value.
Join us online for a one-to-one webinar
and discover how we can benefit your organization.
Email improve@sqaservices.com to learn more!
---