SQA News | Spring 2023
Wins & Challenges


I'm so excited to give everyone an update on some big news that's happened over the last six months!  Big wins for SQA and some challenges along the way and a new chapter in my life moving forward.  As you likely read in our press release in late '22, I've transitioned to the role of Chairman and have hired a new CEO, Mr. Michael Guymon.  This has been something I've thought about for several years now, and I wanted to get it done for a variety of reasons that I'll share below.  Let's start with the wins from this move… 
Wins
Bringing On A New CEO
On a trip with my father and Co-Chairman, Jim McKay, in May of '22, I opened up to him that I wanted to contribute in a different, likely more meaningful way moving forward with SQA.  I love sales, I also love recruiting amazing new talents onto our team.  I grew tired of almost every other duty to call myself a Chief Executive Officer.   Specifically, leadership/management through a pandemic.  I'm super proud of how we handled Covid as a company, we implemented a Survive and Thrive mentality that worked very well and we didn't lay anyone off which we're very proud of because of the family atmosphere at SQA.  These items and more were super taxing, and I wasn't as present as I should be late '21/'22.  Work wasn't as fun for me with the daily uncertainty of when we would work together again and other similar things.  
My Dad wasn't surprised by what he heard from me and wanted to support me in any way he could.  We discussed critical succession ideas for the rest of the trip and a timeline for finding a new CEO.  During some time alone, I was able to write out some critical attributes that the future CEO must possess and upon return I immediately reached out to the person who is now our CEO, Michael Guymon.   
Why Michael Guymon?
So why Michael?  I wanted someone that was super technical and that had experience with sophisticated manufacturing projects under high stress.  I wanted someone that was more in tune with the future workforce and their motivations, ideal workplace conditions, and other aspects of how a company should run most optimally.  I wanted someone very different than me, someone more patient and with a different style and approach.  I loved and took pride in having something to do with our initial success. Our efforts to support more clients while improving their supplier for patient and consumer safety is our goal for the next 5 years. In order to double in size over the next 5 years, it will take a different type of person and I'm confident Michael is that individual.    
I met Michael six years ago and he struck me as someone that would be a perfect fit to take over for me at the right time.  I wanted someone that lived in LA already, but they didn't have to be from LA.  Michael was born in Kansas, spent time in Tennessee and Arkansas, and then attended Texas A&M University.  After graduating, he immediately went to work at SpaceX and quickly emerged as an outstanding department leader.  Not only is Michael super technical, but he also excels with communication and a hands-on leadership style that everyone appreciates.  He's already made a massive impact in substantial ways, and I couldn't be happier with the selection I made.   
Onward And Upward!
2022 was our biggest year ever!  Record revenue due to the amazing performance of our best-in-class team.  We grew by 20% on top of a 30% increase in sales growth in our previous fiscal year. 
What are some contributing elements to this record growth?  One development was the first Supplier Excellence Committee meeting that we held in 2022.  We were proud to host several critical customers off-site at my home in the Palm Springs area.  The results were super productive, and it was so fun for me and our team to see our customers sharing best practices and helping each participating oganization solve their respective supplier quality challenges.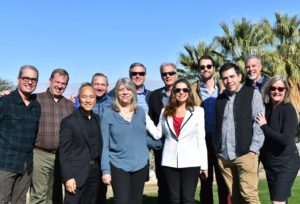 Challenges
Passing The Baton
Speaking of challenges, I have a few I'd like to share.  My role as Chairman won't be easy.  I want everyone to know that Michael runs the show now.  He calls the shots, and it might be tough times to stay out of the way.   
Giving the car keys to someone else after 27 years isn't going to always be easy but I'm excited to attack my new challenges with excitement.  By the way… this isn't a retirement note at all.  If anything, I'll likely be on the road seeing customers and Associates even more so now that my duties are more targeted to business development and recruiting.  
Questions
As a quick reminder, the creative team at SQA needs your help as the team starts to draft it's 2024 SQA Quality Calendar.  Please submit ideas that you'd like to see featured during one of the months of next year. 
Thank you for all your support over the years, it has been a pleasure being your leader for 27 years.  As usual, if you have any specific thoughts, questions, or growth ideas for our journey, please feel free to send me an email mmckay@sqaservices.com. 
Thanks in advance for your thoughts!
—-
Forever Yours in Quality,
Mike McKay



Chairman
---
Words From Our New Leader

I'd like to start by expressing my immense gratitude towards those who have embraced me as the leader for the next chapter in SQA's journey. This insanely talented team has poured their passions into building a world-leading company over the past 28 years, and I am honored to play a part in its future. I would also like to thank our clients who have truly partnered with us to act as a unified team, accomplishing goals that would have otherwise been out of reach. These talented people, strong partnerships, and ambitious objectives will continue to propel us forward into new frontiers.  
These key strengths are part of SQA's identity, inseparable from our company culture. I intend to reinforce and build upon this foundation of success in years to come. However, I am also looking forward to infusing elements of my previous companies to expand SQA's capabilities and serve our customers in new ways. I look forward to providing more detail on this topic in our next newsletter. 
In the meantime, I would love an opportunity to connect with our clients and learn more about what we can do better. As a former client of SQA, I have a great appreciation for the challenges that are inherent to running supplier quality organizations, and I enjoy new problems to solve. Please feel free to reach me anytime at mguymon@sqaservices.com.  
Onward & Upward, 
Michael Guymon



President/ CEO
---
Out & About with Team SQA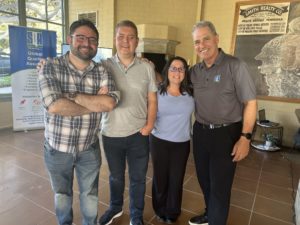 Kicking off with a recap of our quarterly State Of The Union Department meeting, SQA was very happy to report on our continued success! The purpose of SUD's is to showcase how we have been progressing in the individual departments, in comparison with forecasting, as well as discuss the future of SQA. Chairman Mike McKay started us off by officially introducing our new CEO, Michael Guymon, and what Mike's new role as Chairman will entail. Our leadership team also took the opportunity to announce the onboarding of new employees, promotion of corporate employees and highlighting employee anniversaries. Special shoutout to all of our employee of the month winners during the quarter: Juan Carlos García, Joy Callejo, Sara Martinez, Trina Do, Stephanie Wong, and Michelle Narun. To those who are new, welcome to the SQA family! Thank you all for your continued hard-work, you are the ones who make SQA great!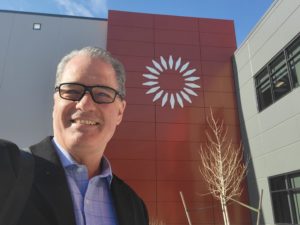 In January, our very own Executive Vice President, Gerard Pearce, visited Commonwealth Fusion Systems in Devens, MA. The ultimate goal of Commonwealth Fusion Systems (CFS) is to combat climate change by deploying "fusion power plants to meet global decarbonization goals as fast as possible. CFS has assembled a team of leaders in tough tech, fusion science, and manufacturing with a track record of rapid execution." SQA is very excited to be aiding in their endeavor, this is "protecting through quality" at work!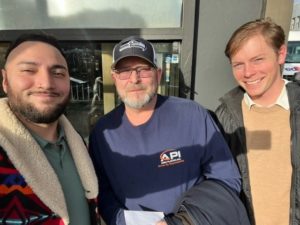 In late January, two of our Recruiting Coordinators, Julien Maes and Issac Vigil, had the opportunity to represent SQA at the 42nd Annual Diversity Career Fair at the University of Washington. The goal was to bring awareness to the many opportunities we offer here at SQA, in the greater Seattle area. Issac noted that "It was a wonderful event focused on diversity and inclusion which allowed us to speak with Students and Alumni both on who we are and strengthen our network in Washington!".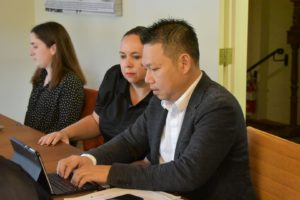 Since the start of 2023, Jason Anderson, Melissa Anderson, and Dustin Pollock, with he help of Brendan Kreditor and Lynn Ly, have been working diligently and traveling all over the US training BlueOrigin Source Inspectors to navigate the new BlueOrigin tablet app. They had 25 source inspectors on the BlueOrigin team when the tablet training was first rolled out. Since, they have successfully trained all 24 of the 25 existing inspectors and onboarded 2 new associates. Great job team! 
---
Upcoming Events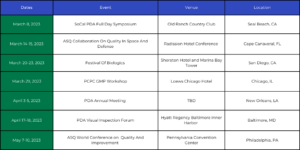 ASQ Collaboration on Quality In Space and Defense, March 14-15th at the Radisson Hotel Conference Center in Cape Canaveral, FL https://asq.org/conferences/quality-space-defense
Festival Of Biologics, March 20-23rd at the Sheraton Hotel and Marina Bay Tower in San Diego, CA https://www.terrapinn.com/conference/festival-of-biologics-usa/index.stm
PCPC GMP Workshop, March 29 at the Loews Chicago Hotel in Chicago, IL https://www.personalcarecouncil.org/events/2023-gmp-workshop/
PDA Annual Meeting, April 3-5th in New Orleans, LA https://www.pda.org/global-event-calendar/event-detail/2023-pda-annual-meeting
PDA Visual Inspection Forum, April 17-18th at the Hyatt Regency Baltimore Inner Harbor in Baltimore, MD https://www.pda.org/global-event-calendar/event-detail/2023-pda-visual-inspection-forum
ASQ World Conference on Quality and Improvement, April 7-10th at the Pennsylvania Convention Center in Philadelphia, PA https://asq.org/conferences/wcqi
---
Quality PERSONified

Meet SQA Program Manager Vanessa Torres Gualotuña

Vanessa Torres is a South Bay native who graduated from California State University, Northridge. Before joining the SQA Services team, she worked with private clients at JP Morgan Chase for more than 10 years. At SQA Services, Vanessa enjoys serving as the Program Manager for Pfizer, Civica Inc., and Abbott Laboratories. Since joining the SQA Services team, Vanessa has become a Certified Quality Improvement Associate through ASQ—she uses this knowledge and skillset on a daily basis with SQA.
In her free time, Vanessa enjoys serving the community: She has donated time and money to Children's Miracle Network Hospital and Los Angeles Children's Hospital, for which she has organized and managed fundraisers.
Vanessa is married to her college sweetheart, Jonathan, and is a mother to their two boys, Vince and Jacob. She enjoys traveling (her favorite destination is Spain) and attending Mana and HAIM concerts. Her idea of a perfect day is relaxing at the beach with a good book.
---
Associate Spotlight


Meet SQA Associate Jon Helgerud

I graduated from Cloud County Community College, Ft. Riley, KS with an A.A. in General Studies. I started my career in manufacturing of electronics in Manhattan, KS. This is where attention to detail paved my way into quality. My then fiancé and I moved to Kansas City to take advantage of what it had to offer. We got married and I focused on gaining experience in machining for agricultural, automotive, aerospace, and defense. Before joining SQA, we added in two kids and two dogs. I started with SQA as an Inspector for Google. I am now the Lead Inspector/Trainer for Google and a Level III Inspector for Blue Origin, while filling in wherever needed.
I enjoy pulling a camper with family in tow to "different" camping locations. One of the bests has been Lake of the Ozarks Shootout. We will be camping in the infield of both races at Kansas Speedway this year. Our family watches and supports the Kansas City Chiefs, the Superbowl Parade this year was EPIC! We also enjoy the other local sport's teams Royals, Mavericks, and Sporting KC as well.
I look forward to working for SQA for many more years. These past two have flown by, and I can only imagine where we are going from here!
---
Hey Associates!
Don't forget to send us your Already Here photos!
Tag us on social media with #SQAAlreadyHere,
or email your photos to media@sqaservices.com.
---
How can we help you?
SQA facilitates the realization of supplier quality goals. This is accomplished by implementing programs designed to provide a unique blend of talented subject matter experts, innovative technology solutions, superior service, and unmistakable value.
Join us online for a one-to-one webinar
and discover how we can benefit your organization.
Email improve@sqaservices.com to learn more!
---