SQA News | Fall/Winter 2019
Wins & Challenges

Welcome to a new decade, everyone! We had a huge ending to our 2019 year, gathering momentum into the fourth quarter to make it the top quarter of the year. I'm proud to say that we also managed to diversify our client base so that no single client represents more than 8.5%. We are poised for a much more balanced – and hopefully record-breaking – year in 2020!
It's too tough to have only three WINS with everything going on, so I will mention five that immediately come to mind as wheels go up on my flight up to Seattle for some exciting meetings.
Wins
New Corporate HQ
We're proud to announce that, after 25 years in the same location, we will be moving our headquarters to a new location in Torrance, California. We're finalizing negotiations now; the location is approximately 14,000 square feet, and only five miles from our current headquarters. We will be on the top floor in the top office building in the entire Los Angeles South Bay. From here we will have sweeping views all the way from Palos Verdes, to Malibu, to downtown Los Angeles. We're slated to move in around the August timeframe after an elaborate custom buildout to meet all of our client, operations, and training needs.
Seattle office
Recent growth in the region is necessitating a new office the Pacific Northwest as well. We're likely going to be in the Kirkland area and staffing the office with a mix of current headquarters staff and a brand new local team – exciting stuff! The Kirkland area is growing like crazy due to expansion of companies like Google, Costco, Blue Origin, and Amazon. Boeing is also poised for massive growth after the 737 Max kicks back into production soon. We are aggressively looking for talent of all disciplines in that area so please let us know if you're open to relocation.
RAM
Our Regional Associate Manager concept is alive and well and we're honing in on how to intertwine the various procedural elements that we're used to doing from HQ with our overseas Managers. It's a challenge as well, because our team is still communicating the overall concept to clients and everyone is adjusting to new methods of doing business.
Advisory members
We've added some members from a variety of new disciplines and geographies, which will be instrumental to SQA's growth. I will have more data on this in the next newsletter, as agreements are still being drafted as I type this article.
Security
The overall topic of security has never been more important, with government and industry regulations increasingly impacting the supply chains of our clients. With everything from physical security, to privacy, to cyber-readiness, SQA is collaborating with clients on new ways to protect their supply chains using SQA's proven formula for managing high-volume evaluation and remediation programs. We have a massive new opportunity in front of us, and we have partnered with some of the best experts in the business to build our capabilities in this area and develop our existing technical team to adapt to the emerging requirements. I look forward to elaborating on these capabilities throughout the year.
Challenges
Talent
I'm sorry for being repetitive, but this simply is far and away our greatest challenge. We're poised to have a record year again in 2020, but what keeps me up at night is finding more amazing people to join our ranks to facilitate the rapid growth. We simply cannot compromise when bringing on new team members. We have a solid pipeline of opportunities out there now and I'm concerned about capacity if things happen simultaneously. On the other hand, it is a great comfort that our great people know a lot of great people, and our referral programs continue to yield good results. The spotlight will be on our Associate Development Managers to continue to qualify new SQA Associates, and our Field Engineering Directors to train, develop, and orient our team for the new challenges ahead. As always, I encourage you to recommend potential new Associates to ADM.
Facilities
Office expansion is super exciting but also a massive distraction. I've literally seen 50 to 60 office buildings over the last year and that was exhausting. Working with designers, architects, legal folks, and building owners isn't easy – especially when nobody knows the true cost to build out a space. Envisioning the most productive workspace and anticipating our future needs is challenging. It's important to get lots of feedback from different groups within our company, but sometimes too many cooks in the kitchen make for a worse meal. When you consider that we're doing this in two locations simultaneously in different parts of the country, then I'm sure you all can understand the magnitude of this challenge. Please hang in there with us in late July, should you notice any disruptions. And if you've been through the process and have some lessons learned, I'd like to hear them, please!
Election uncertainty
The next ten months are likely going to be unprecedented in US History. We as a company need to navigate this period without getting caught up in the daily drama. It's easier said than done. Many of our clients will be greatly affected by the outcome, and we need to know how to best proceed with them based on which side wins. Any organization that fails to plan for a variety of potential scenarios isn't giving this subject the attention it deserves. We don't control our own destiny here – no company does – but we will stand ready, come November, to handle things without a hitch and continue to delight our clients, Associates, and corporate employees accordingly.
Predictions for 2030
It's always been a big challenge of mine to strategize for our company. I speak to many people daily who share this challenge of predicting the future of manufacturing and the opportunities/trends that will likely come with it. I came up with one way to tackle this when I was sitting with my son on New Year's Day this year. It should be noted that during this discussion we were sharing our first alcoholic beverage together since he's 18 and we were in a country where that was legal! Long story short, we talked about how exciting things are these days and I suggested we share our predictions for 2030. I also added the year 2070 when I will be 100 years old. I told my Dad about this as well and he has submitted his thoughts, which makes three generations of McKays sharing their predictions on March 1st. We will cover transportation, lifestyle, manufacturing, politics, sports, economy, science – pretty much anything you can think of. The net result will help us figure out how to shape our services. What jobs are on the rise, and which are going away? Where are the hotspots where emerging markets will thrive? What will the Dow Jones Industrial Average look like? What will be the cost per gallon of gas? What will a bottle of water cost? If you want to participate or care to see our thoughts, please send me a note at mmckay@sqaservices.com. I hope to see LOTS of ideas!
Thanks for reading a longer than normal edition of SQA Today. I thank each and every one of you for your support!
Yours in Quality,
Mike McKay



President/CEO
---
SQA reaches a Quarter-Century
This 2020, SQA will celebrate its 25th anniversary. We take special pride in reaching the quarter-of-a-century milestone in this ever-changing, highly critical and particularly demanding industry, and would like to invite you to learn a bit more of our journey and our passion for quality. Follow this link for a deeper look into our company.

New logo. We are happy to introduce our 25th anniversary commemorative logo, which will soon be displayed in all our platforms.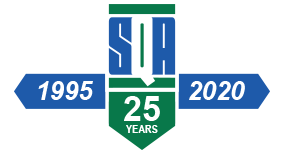 ---
Out & About with Team SQA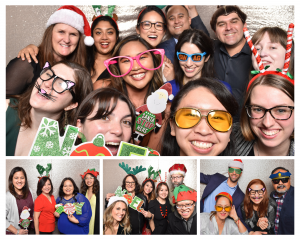 Holiday Party. Lots of happy faces at SQA's 2019 Holiday Party! To put a golden wrap in a successful year, our corporate employees were treated to a wonderful evening at one of Redondo Beach's most scenic venues. There was plenty of dancing and no shortage of great photo booth pictures (like the ones you see here). Spot any familiar faces?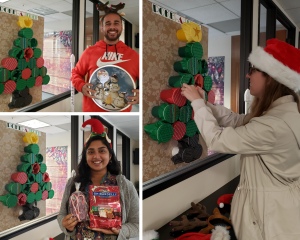 More Holiday Cheer. During the month of December, Team SQA soaked in the spirit of the season by participating in several Holiday activities around the office, such a daily Holiday Trivia and a game of Poke-A-Tree. The prize pool included free lunches, seasonal candy, hot beverage kits and coffee shop gift cards.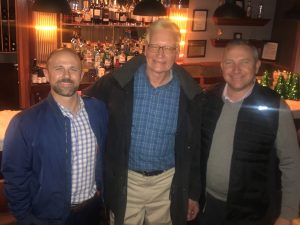 Face to face meetings. We continue our efforts of meeting our SQA teammates in person. Nick Healy, Director of Operations, and Brad Schultz, VP of Sales and Marketing, were very excited to meet Wisconsin associate, Mark Iwicki, during a business trip last December.  #sqa #sqaalreadyhere #sqaassociates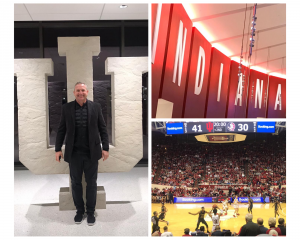 Midwest bound. Brad Schultz, VP of Sales and Marketing, attending a Hoosiers game on a well deserved break after very productive meetings with Abbott in Minnesota, Alkermes in Ohio and Catalent in Indiana.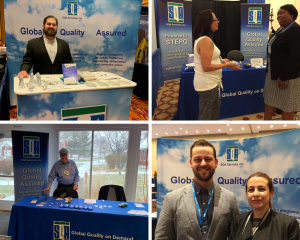 Industry-event participation. 2019's last quarter was specially active for SQA, conference-wise. Our booth was present at the ISPE Annual Meeting (Las Vegas, NV), Generis American Medical Device Summit (Lombard, IL), PCPC Cosmetic Science Symposium & Expo (Philadelphia, PA), Minnesota ASQ Section Conference (Brookly Center, MN) and Generis American Aerospace & Defense Summit (Glendale, AZ), among other local SoCal events.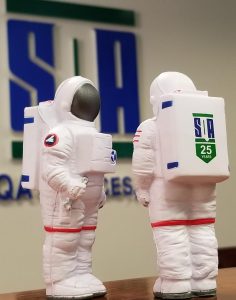 Brand new merchandising. We have completely renewed our SQA swag inventory and will be proudly displaying it in upcoming events. We have squishy spacemen, pill bottles and microscopes, luggage tags, TSA-approved clear bags and more! Check below where we are exhibiting next and stop by to get some for your personal reserve.
---
Upcoming Events
The SQA team will be attending and exhibiting at the following events:
SoCal PDA Vendor Night : 9th Industry Summit & Exhibitor Showcase

February 26, 2020 – The Grand in Long Beach, CA

PCPC Annual Meeting

March 1-3, 2020 – The Breakers in Palm Beach, FL

ASQ's Collaboration on Quality in Space & Defense Industries

March 9-10, 2020 – Radisson at the Port in Cape Canaveral, FL

NASA's Quality Leadership Forum

March 11-12, 2020 – Radisson at the Port in Cape Canaveral, FL

PDA Annual Meeting

March 30 – April 1, 2020 – Raleigh Convention Center in Raleigh, NC

ISM Annual Conference

April 26-29, 2020 – John B. Hynes Veterans Memorial Convention Center in Boston, MA

ASQ World Conference

May 3-6, 2020 – Greater Columbus Convention Center in Columbus, OH
---
Quality PERSONified
Meet Tim Lebetsamer, SQA Director of Associate Development
I have been with SQA since 2007, and after bouncing around a few Operations support roles, I settled into the Recruiting function, which has since developed into the Associate Development Management group, or "ADM". In ADM we work with every client and industry that SQA supports, in every region of the world. I'm currently head of the ADM group and work closely with the Program Management, Field Engineering, and Business Development teams to ensure SQA has the right talent, in the right place, and at the right time to meet our clients' objectives. The relationships I've built with both our Associates and employees will last a lifetime.
I'm also a Leader for my oldest son's Cub Scout Den, and I'm part of directing and conducting weekly meetings for our Pack of 25 boys. Scouting is a great program to prepare young people to make the right choices in their lives and to encourage them to be physically strong, mentally awake, and morally straight. As an Eagle Scout myself, I always intended to give back to scouting and this experience is rewarding for the boys, myself, and the community.
---
Associate Spotlight
Meet SQA Associate Mark Iwicki
I have worked in Quality Assurance for the medical device and pharmaceutical industries for more than 35 years, most of that time with a Fortune 500 medical manufacturing corporation. During my career, I gained experience in direct medical products manufacturing, supplier quality, product development, and quality engineering. I have worked as an independent consultant sharing my knowledge and experience with clients for more than ten years and the last two have been as an SQA Associate. Some of my experience includes developing a standardized approach to supplier management at the corporate, business unit, and manufacturing plant levels; establishing a corporate quality system for a start-up medical device company; and supporting a product development quality engineering effort for a client's first launch of a medical device. Working with SQA has been a rewarding experience for me, as I continue to learn about pharmaceutical and medical device supplier quality systems and manufacturing capabilities.
I have lived and worked in the Chicago area for most of my life. I graduated from Loyola University in Chicago, Illinois, with a Bachelor of Science in Biology. During my career, I also obtained certifications as an ASQ Certified Quality Engineer and Certified Quality Auditor. My wife, Karen, and I just celebrated forty years of marriage. We have three children and two grandchildren who keep us busy enjoying the time we spend with them. My current hobbies include bicycling, reading, and some occasional binge watching on Netflix.
---
Hey Associates!
Don't forget to send us your Already Here photos!
Tag us on social media with #SQAAlreadyHere,
or email your photos to media@sqaservices.com.
---
How can we help you?
SQA facilitates the realization of supplier quality goals. This is accomplished by implementing programs designed to provide a unique blend of talented subject matter experts, innovative technology solutions, superior service, and unmistakable value.
Join us online for a one-to-one webinar
and discover how we can benefit your organization.
Email improve@sqaservices.com to learn more!
---