SQA News | Fall 2018
Wins & Challenges

I usually end up writing these articles while flying. I find it peaceful, and for some reason being on a plane lets me open up my mind. I'm sitting next to my lovely wife Carrie, en route to celebrate a close friend's 50th birthday. I can't believe we are getting that old, but apparently 50 is the new 40!
There are a lot of fantastic things going on right now within our company, and frankly, it's hard to narrow it down to the top three or four. Before I get into specifics involving business, I need to talk about this Thanksgiving and how amazing this past week was. We had nine people staying at our home- including my parents, Carrie's parents, my two kids (one home from college) and one of my brothers. We've never had that many house guests, so it was really special. We also had a new addition to the family, a dog named Daisy that we rescued from San Diego. Over the last 17 1/2 years we've had a dog named Shelly, who unfortunately we had to put down, so we were so happy to have Daisy share her energy and smile with everyone. So much to be thankful for.
Businesswise, SQA has a lot to be thankful for as well…
WINS
Revenue
Our company is having yet another record year. We've grown another 10% and are nicely diversified in a variety of new projects involving quality engineering, audits, and inspections programs in several new industries. Our sales team has grown under the leadership of Brad Schultz and our pipeline for new projects is bursting at the seams.
International travel
It was a real treat to head to Europe this October with several members of our team to see some existing clients and also meet new prospects. The UK, Belgium, and Germany were gorgeous, and I had a lot of face time with local Associates and some leaders on our executive team. There are plenty of side benefits to these trips as well, most notably having time to get to know more about the people I work with. It's great to see and learn more about what they do outside of their time at SQA- what makes them tick, how they operate, and how they're motivated. I'm always refreshed after these trips and frankly, I need to take more of them. From a business perspective, there are also great opportunities to discuss critical events surrounding SQA outside of the office, which is a great tie-in to my next WIN for SQA these days…

Strategic planning overhaul.
In our first 20-odd years, I usually wrote our annual business plan either by myself or with the help of our Executive Vice President, Gerard Pearce. The business plans were simple, had few moving parts, and helped us immensely during our early years. I shouldn't beat us up too much because our plans were usually spot on. I've always believed in the saying "If you fail to plan, you plan to fail," but my original formats and limited inclusion of others needed a drastic overhaul as we've grown. Enter Brad Schultz and his new ideas about how to get the most out of a business plan. He's hit the ground running on planning how we maximize our potential for success, and he has started to involve other key people more in the process. Accountability and buy-in goes through the ceiling when doing so, and I frankly wish I had utilized these concepts earlier. So, what's new? The process starts in June, with Department Heads all sharing thoughts and ideas far in advance of putting the plan together. I purposely sat out of these meetings and was blown away several weeks ago when the initial draft of the plan was given to me for review. The draft was far more polished than any plan I had written, with many more measurable goals and metrics to measure our progress. This is Brad's second year leading the task, and I'm convinced – due to the organization of thoughts and ideas of the participants – that we have a much greater likelihood of hitting all of our goals in 2019. Thanks to everyone who participated!
With wins also come challenges, and we've clearly had our fair share over the last quarter…
Challenges
Getting our Regional Associate Manager [RAM] concept off the ground.
Los Angeles has a professional football team called the Rams, and now SQA needs its own team of RAMs too! For years, we've successfully run our global operations primarily from Los Angeles. It's clearly time to invest more in our global Associate network and leverage this amazing resource. Most of the members of our Associate Development team have never visited the countries where they encounter our best Associates for assignments. Cultural differences, as well as time zone changes, make the task daunting and I'm pleasantly surprised that we've done as well as we have over the years. Now, it makes sense to take a more local approach to the challenge. We are currently discussing options with Associates in Europe, Asia, and South America to handle a much broader realm of responsibilities than simply working for our SQA clients. Traditionally, our Business Development team has traveled the globe to grow accounts. That travel will still take place, only now we will take fewer trips and give Associates in their respective regions the opportunity to handle more of the follow-up work. When it comes to recruiting new talent, managing local resources, and providing clients with metrics during client business review meetings, we will realign responsibilities and incorporate these tasks into the RAM role as well. Instead of trying to do all these things from Los Angeles, we plan to bring these critical aspects of our service delivery close to where things happen. The challenge with this is finding the right Associates who are fully aligned with the scope of this role. Many are simply too busy to embark on a task of this magnitude, while others might struggle with the expectations of our clients. That being said, if any Associates reading this are interested in this role, please reach out to improve@sqaservices.com to learn more about being a Regional Associate Manager!
Losing great Associates
We recently wrapped up as assignment that was originally supposed to last  six months but ultimately well beyond two years due to its success. Our team of Quality Engineers was so productive that our client simply kept finding more and more things for them to do! Having the right people in the right place at the perfect time is tough to achieve, and our best Associates have a knack for maximizing productivity and working themselves out of a job. The problem is that when their duties are completed, we at SQA headquarters don't always have subsequent assignments for them, and they might need to start a more thorough search for a full-time job. This is happening with greater frequency, given the changes in working cultures today, and it's heartbreaking when we can't fully satisfy our internal customers with more and more fulfilling assignments to keep their skills sharp.
Questions
What are some things we need to consider to make the RAM concept click? How should we measure its effectiveness? How often should RAMs visit our headquarters to stay suitably connected? Should RAMs be given the task of pricing our services? How should they participate when we win a large account together?
How are we doing marketing-wise? Is our social media outreach catching the eye of SQA Associates and clients? How about our SQA calendars and our monthly Global Associate Awareness "360/365" calls? We try so many things at SQA, and receiving feedback from you all around the world not only helps us refine the message, but also helps us improve as an organization.
Thanks for reading, and please feel free to contact me for any reason at mmckay@sqaservices.com!

Yours in Quality,
Mike McKay



President/CEO
---
2019 Quality Calendar 
Our 2019 Quality Calendar is hot off the press! Please reach out to ekeenan@sqaservices.com if you are interested in receiving one.
---
Out & About With Team SQA

Our Director of Associate Development, Tim Lebetsamer, visited the ASQ Headquarters in Milwaukee, Wisconsin in November. He had the chance to explore partnerships in talent, leadership, and quality with Mike Dzick, the Director of Strategic Partnerships and Events at ASQ.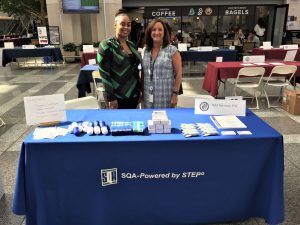 Tami Parker and Lianna Lacefield went to Loyola Marymount University to talk to students about the world of supply chain management and opportunities for post-grad employment at SQA. We love having enthusiastic team members like Tami and Lianna, and the LMU Lions were lucky to meet them!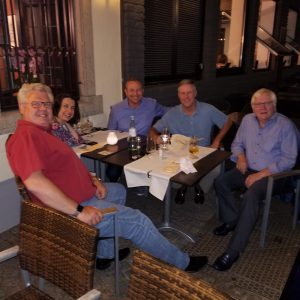 Mike McKay, Brad Schultz, and Karla Topete traveled abroad in September to visit customers and Associates. They met with SQA Associate Boudewijn de Jong and retired Associate Jürgen Meister in Cologne, Germany. The team also met with a few customers in Germany, France, and the United Kingdom. As Mike mentioned earlier, traveling abroad with the Business Development team is a vital (and fun) way to maintain our global network.
SQA Associate Development Manager Laura Troxel and Field Engineering Director Dylan DeCoursey traveled to Memphis, Tennessee this fall to attend the ASQ Inspection Division Conference. They had a great time connecting with future SQA Associates and industry professionals, as well as attending a few conference sessions.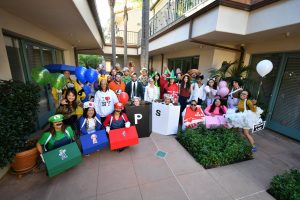 Our team at HQ got into the holiday spirit for our annual Halloween party! We definitely know a thing or two about quality costume design. Everyone had a great time dressing up, eating tacos, and playing games together. Events like this are a great way to show our team spirit!
---
Upcoming Events
The SQA team will be attending and exhibiting at the following events.
Personal Care Products Council Annual Meeting (February 24-27, 2019)
Annual PDA Conference (March 11-13, 2019)
ASQ World Conference on Quality and Improvement (May 19-22, 2019)
Generis American Bio-Manufacturing Summit (June 18-19, 2019)
ISPE (October 27-30, 2019)
PCPC Symposium and QAC (October 29-30, 2019)
Southern California Quality Conference (November 2, 2019)
---
Veterans Corner
We are proud to announce that the SQA team has put 70 US military veterans to work so far this year! We are close to hitting our goal of hiring 100 veterans to join the SQA global Associate network. If you know any veterans with a background in quality assurance who are looking for work, please refer them to an Associate Development team member.
---
Quality PERSONified
Andrew graduated from UC Santa Barbara with a degree in Global International Studies. As a member of clubs like Model UN and the Global Awareness Program, he was enthusiastic about the opportunity to work for SQA and to engage with our global Associate reach as a Program Coordinator at our Tech Center in Hawthorne. His hard work, energy, and dynamic approach to team building gained attention from both our clients and our Business Development team at HQ, so we invited him to join us here in Rolling Hills. In addition to his exceptional performance at work, he also engages with his community by volunteering at his local food bank. He constantly seeks to build his skills by taking classes and gaining additional certifications, and he approaches every challenge with a can-do attitude. We are so proud to have him on our team!
---
Associate Spotlight
Kent has been a part of our Associate team since June of 2016. His previous experience in the semiconductor industry made him a perfect match for a project with the biggest space company in southern California. Kent stands out as an incredible team member who has been instrumental in training and leading a team of engineers to achieve challenging milestones set by our client. His patience and willingness to help is constantly recognized by SQA as well as the client. He also knows how to have fun- in his spare time, he enjoys golfing, mountain biking, following college football, and participating in community activities through his church. Congratulations, Kent, and thank you so much for everything you do to make SQA the best we can be!
---
In Memoriam – Bill Rutter
We are deeply saddened at the passing of our long-time Associate, Bill Rutter. We have worked with Bill since 2006, and over the years he has made an impact on so many of our clients and teammates. In his long tenure as our Associate, Bill worked with more than 30 clients, performed hundreds of audits, and received countless stellar reviews from everyone who had the pleasure of working with him. Bill loved woodworking, hiking, fishing, and his namesake team, the Buffalo Bills. He was a team player and a favorite among our team at HQ, and we will miss him. Our thoughts are with his family
---
Hey Associates!
Don't forget to send us your Already Here photos!
Tag us on social media with #SQAAlreadyHere,
or email your photos to media@sqaservices.com.
---
How can we help you?
SQA facilitates the realization of supplier quality goals. This is accomplished by implementing programs designed to provide a unique blend of talented subject matter experts, innovative technology solutions, superior service, and unmistakable value.
Join us online for a one-to-one webinar
and discover how we can benefit your organization.
---